Web3 University
A forum for discussions about Web3 content, education, and learning how to build.
Home
General
W3U Improvement Proposals (WIPs)
Content Submissions for Web3 U
Blockchain Discussion
NFT Discussion
DAO Discussion
DeFi Discussion
Hackathons
NEW TOPIC
NEW POLL
Car drifting simulator you dreamed of.

Enjoy drifting & driving awesome cars. Explore beautiful maps, find your favourite drift locations. Do experiments with car tuning. And join the Drift Hunters community!
- Over 25 awesome drift cars. Drive your dreams!
#Content Submissions for Web3 U
•
4 hours ago
Boost Your Reach and Revenue with Ampro TechValley's E-Commerce App Development Solutions
E-commerce app development has gained popularity over the last few years as more and more businesses turn to the virtual world to boost sales. Ampro TechValley is the perfect content solution to provide e-commerce app development services that may assist businesses in reaching a larger audience, increasing their reach and revenue, and establishing customer loyalty.
Wireframing and Prototyping for Mobile Apps
Ampro creates a wireframe, which is a visual representation of the app's layout and structure. We are also determined to create a prototype of the app, which can be tested and modified before being released to the public.
#NFT Discussion
•
14 hours ago
How can an NFT marketplace attract both established artists and emerging talent to participate on the platform?
To attract both established artists and emerging talent to participate on an NFT marketplace, the platform needs to offer a range of benefits and features. One important aspect is providing a user-friendly interface that makes it easy for artists to upload their work and manage their portfolio. Additionally, the marketplace should have a strong reputation in the art community and offer competitive fees and royalties to creators. Another important aspect is marketing and promotion, which can be done through targeted advertising and partnerships with galleries, art institutions, and social media influencers. The platform can also offer tools and resources for artists to showcase their work and connect with potential buyers, such as online exhibitions and artist interviews. Finally, the platform should prioritize transparency and trust, ensuring that artists have control over the distribution and pricing of their work, and that buyers can trust the authenticity of the NFTs they purchase.
Visit Us : https://www.chaincella.com/nft-marketplace-development-company
How to Develop Your Hybrid Crypto Exchange Platform in 2023
Hivelance will be the best option to construct your hybrid cryptocurrency exchange platform because of its history of developing successful crypto businesses. Our hybrid cryptocurrency exchanges make sure that trade settlement is carried out using smart contracts on the blockchain, but the order book and the matching algorithm are retained off-chain. We have the best team of developers who have been working with blockchain technology for more than ten years.
We can improve your business planning and foresee the greatest ideas for phenomenal growth. Our team creates appropriate layouts for the development and successful deployment of your project. We have a ready-made software for a cryptocurrency exchange that enables you to begin the exchange right away.
Get Started with Your Own Crypto Exchange with Coin DCX Clone Script
The CoinDCX clone script is a software solution for entrepreneurs looking to establish their own cryptocurrency exchange trading platform. The script has the same built-in features and API as CoinDCX.
In recent years, Hivelance has established its position as one of the trustworthy companies developing cryptocurrency exchanges. We have a large clientele base in several nations. We provide complete solutions for cryptocurrency exchanges and scripts like CoinDCX clone Script at any stage.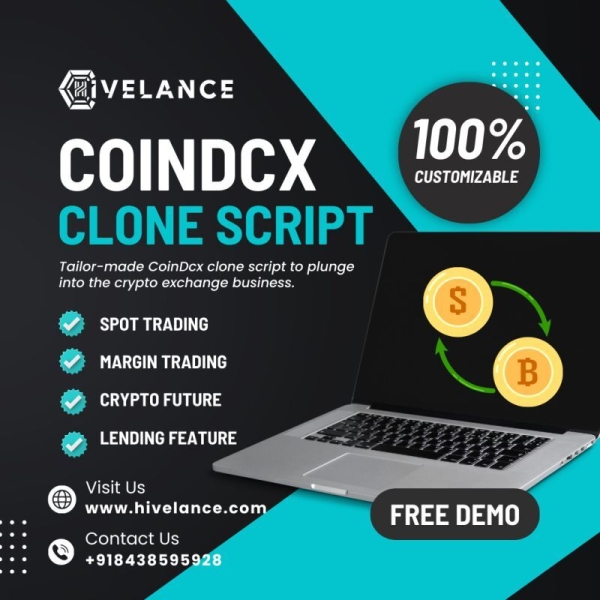 #Blockchain Discussion
•
16 hours ago
Innovating Crypto Trading with State-of-the-Art Exchange App Development
We are the pioneer Cryptocurrency exchange App development company, allowing users to conduct crypto transactions with full tracking capabilities. We build your apps with modern UX/UI designs and crypto wallets to store, send, and receive digital assets based on customization. In addition, a clear user interface is built in for tracking the transfer of funds (deposits and withdrawals), and strong APIs will be the foundation for data functionalities. We treat the needs of our clients as if they were our own, and we work arduously to get your bitcoin exchange apps up and running quickly.
Hivelance, as the finest coordinator in developing crypto exchange apps, can assist you with becoming a distinct brand in areas with exceptional development and profitability. We have an experienced team of specialists they will assess your company's level and offer suggestions for raising it to the highest priority. We can successfully execute the layouts we created during the project development and direct audiences to your platform. We are the ideal choice for boosting the efficiency of the income generation process.
#Blockchain Discussion
•
16 hours ago
Essential factors you should know before starting a crypto exchange

Starting a cryptocurrency exchange is one of the most prominent and profitable businesses in recent times. In recent times the price of bitcoin has been substantially growing. So, entrepreneurs, and startups are ready to invest in crypto exchange and utilize this time. But before deploying your business, you should know a few things about the crypto exchange. Let's see those factors.
Research & Analysis
How to launch my own cryptocurrency Exchange Software?
Hivelance is a top-notch cryptocurrency exchange software development company building cryptocurrency exchange scripts to promote secure and faster transactions. We have a dedicated and highly skilled team capable of developing your cryptocurrency exchange platform with groundbreaking features and advanced security protocols that enable high speed and ideal transactions. Contact us to learn more about Cryptocurrency Exchange Software Development.

#Blockchain Discussion
•
17 hours ago
Unlock the Potential of Crypto Token development
Many Startups and entrepreneurs are actively exploring blockchain technology to create innovative solutions that address various industries' pain points. With its potential to increase transparency, security, and efficiency, blockchain is seen as a game-changer for startups looking to disrupt traditional business models.
In addition to its broader applications, startups are also exploring the potential of cryptocurrencies to disrupt traditional financial systems. With the rise of decentralized finance (DeFi), startups are developing new crypto-based financial products and services.
The boom in crypto tokens has created new opportunities for startups to innovate in the blockchain space. Crypto tokens are digital assets that can represent anything from ownership in a company to access to a particular service or product. In other words, they're the "keys to the kingdom."
#DeFi Discussion
•
18 hours ago
Decentralized Exchange Script: Unleash The Power of Decentralization
Cryptocurrency has revolutionized the financial world with its decentralized and transparent system.
The emergence of cryptocurrency exchanges has made trading and investing in digital assets much more accessible. However, most of these exchanges are centralized, meaning they are operated and controlled by a single entity.
This puts the users' assets at risk, as the central authority can be hacked, shut down, or manipulated.